11 Awesome Food Gifts for Mother's Day
Mother's Day Gifts
We understand your mom is the most important person you know. She was always patient with you and seemed to have an endless supply of love. Mother's Day is your time to show your love back. We're here to help you find just the right gift for Mom.
In conjunction with our Ultimate Mother's Day Gift Ideas, we've set out to find some of the best Mother's Day food gifts for moms who have a passion for food. No matter if she loves cooking or prefers to sit down and enjoy a good meal, here are 11 unique food gifts for Mother's Day that mom is sure to savor.
Artisanal Chocolate
Your mom deserves better than waxy store-bought chocolate. What she needs is a smooth, rich, and exotic truffle from Vosges Haut-Chocolat. They create a rich mix of handcrafted chocolates with unique flavor profiles using one-of-a-kind flavors like horseradish, lemon zest, hazelnut, and Ghanaian cocoa nibs. This blend of flavors and textures will become an instant hit for any foodie mom.
Hot Sauce Variety Pack
If your mom loves hot sauce, or you just want to tell her that she's always managed to spice up your life, then she needs this hot sauce variety pack. As any good fan of hot sauce will tell you, it's not just the heat that makes an excellent hot sauce, it's about the flavor too. This variety pack will give your mom a wide range of tasty and spicy sauces to enjoy.
Sous Vide Circulator
Sous vide, or "under vacuum" in French, creates unbelievably juicy meats that are perfectly cooked from edge to edge. Every big-name chef has them as an essential part of their kitchen. Giving mom a sous vide circulator and cookbook can take her cooking that you already love and make it on par with a Michelin-starred restaurant.
Lessons from America's Test Kitchen
America's Test Kitchen is known for doing their own research to find the absolute best recipes and methods to create any meal. Their courses take thousands of hours of research and boil it down into a step-by-step guide to make delicious food. No matter your mom's experience in the kitchen, these courses will help her become even better. The only thing you have to worry about is making sure you have room for all of the food she'll be making.
Spice Up Her Popcorn
If your mom is a foodie, the average microwave popcorn is far from fabulous. This collection of popcorn spices is a great food gift for Mother's Day that brings out the best of popcorn and will leave even the pickiest foodie reaching for just one more handful. Make sure you have a few of her favorite movies ready to go so she has an excuse to try out each new flavor.
Invite Her to Tea Time
Revisit your childhood and have tea time with mom. Instead of scrunching down next to your stuffed animals and pretending to drink from a plastic tea set, gift your mom this sleek and modern glass tea set. You can watch the tea leaves slowly steep while you catch up and chat.
If she already has a lovely tea set, treat her with this Tea & Cookies package.. This gift, crafted with love by your very own care package connoisseurs, Spoonful of Comfort, offers a Tea Trio fine tea variety Raw honey and dipper as well as your choice of delicious Spoonful cookies. With everything she'll need to enjoy a warm & loving tea time, she's sure to enjoy the gift.
Bring New York Bagels to Mom
If you ask any New Yorker where the best bagel is, chances are they'll tell you Ess-a-Bagel. They're renowned for creating hand-rolled chewy, crusty bagels that are the epitome of a New York bagel. This bagel brunch box is a perfect Mother's Day food gift that gives you everything you need to share the fresh taste of a New York bakery with mom no matter where you are.
Don't Get Too Salty
One of the best ingredients any chef can add to their kitchen is a pinch of delicious, flaky sea salt. This uniquely original sea salt adds new layers to everything it touches. Just as a perfectly cut aged steak from a trusted butcher will always taste better than a cheap slice from a grocery store, Maldon sea salt is levels above generic table salt. For chefs and foodies in the know, Maldon is the best salt on the market.
Honey for the Queen Bee
As the queen of the hive, your mom should try out some artisan honey. Depending on which plants a hive gathers pollen and nectar from, the honey's taste can change drastically. Mix up her day by giving her some dark buckwheat honey with a deep molasses and malty flavor to it, or the highly sought-after blueberry honey that is amber in color with a full-flavored taste and just a hint of blueberry aftertaste.
10. A Taste of Home
As experts in sending comfort and care, we know a thing or two about putting together the perfect gourmet gift basket. Give your mom a unique Mother's Day food gift with Spoonful of Comfort's Mother's Day Package. Inside she will find a soup so good she might just say it's better than her own, plus delicious rolls and a half-dozen cookies she might not want to share with anyone else for dessert. Even if you can't be with her for Mother's Day, this soup will help her feel your warm hug from wherever you are.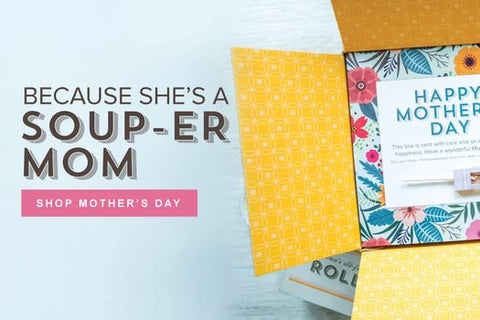 See more Spoonful of Comfort Mother's Day Content
[Mother's Day Gift Guide]
11 Food Gifts for Mother's Day 2021 (➜ Currently Reading)
[Mother's Day for a Grandma]
[Mother's Day General]

➜ Order the special Mother's Day gift package from Spoonful of Comfort