18 Awesome Ideas for Employee Gifts
Ideas for Employee Gifts
It's no secret that 2020 has been a difficult year for people at work and at home. So imagine how an unexpected gift on an employee's desk or porch could liven their spirits. They'll certainly appreciate your company for it.
There are many reasons corporate gift-giving is a smart idea. Just to name one, gift-giving shows appreciation to your employees, and company morale can increase because of it. And, when people are happier at their jobs, the more productive they become. Really, it's a win-win situation. So, check out how to do gifts for employees the right way.

The Rules of Giving Gifts to Employees
Before you start brainstorming the perfect gift ideas for employees, consider some social and legal implications for gifts.
How Do You Account for Gifts Given to Employees?
Because of tax laws, many gifts given to employees can be seen as taxable income, which may prove to be more of a burden for your employees. For example, a $600 tablet you give as a gift could cost the recipient up to $200 in taxes if they claimed it legally.
A way to avoid any potential taxes and keep your gifts feeling generous is to focus on de minimis fringe benefits. These fringe benefits are excludable from income tax, and include perks like:
Traditional, non-cash birthday or holiday gifts
Personal use of office equipment
Occasional parties or group meals
Tickets to theater or sporting events
Coffee, donuts, or other snacks
Flowers, books, or similarly priced items for individual recognition
Generally speaking, as long as the gift has a low market value and isn't just a cash bonus, your employees won't have to worry about taxes.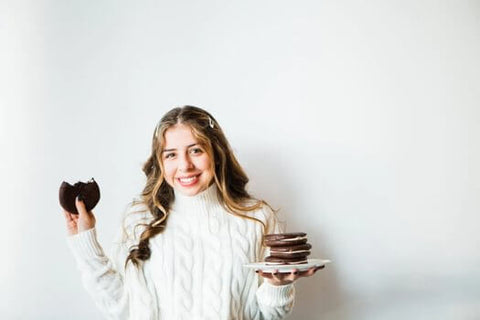 What Do Employees Want for Gifts?
Getting corporate gifts for employees can be challenging. Large organizations may not be able to manage unique gifts for each individual's interest. And while you want it to be meaningful and appreciated, you don't want to cross into inappropriate territory.
Be mindful of gifts that may be considered "too personal." A good rule of thumb is not to give anything you would be uncomfortable receiving from a boss. An easy way to avoid a potentially awkward situation is to focus on gifts that are applicable to a person's job. Be fair and equitable, too. If one person gets a day off for their birthday, everyone should get that as a gift, too.
The following gifts can be appreciated by employees of all ages, genders, and professional positions.
Food
Extra PTO
Event tickets
Gift cards
How Much Money Should Companies Spend on Employee Gifts?
The amount of money you spend on gifts will largely depend on the size of your company, but here are some general guidelines:
Spend the same amount on every employee. You don't want one employee feeling cheated for getting an obviously less-expensive gift.
Don't spend more than $100 per employee. This guideline can help you avoid the tax liability of expensive corporate gifts. Also, some employees may feel uncomfortable receiving an expensive gift, so this limit will help you avoid those situations.
If the gift is for a special occasion, like retirement or work anniversaries, it's ok to go over the usual budget. These events call for an extra special celebration. But again, spend a similar amount for each similar occasion.
With this in mind, here are some excellent employee gift ideas that are sure to lift spirits in 2020.
18 Gift Ideas for All Types of Employees
Gifts for Employees Working From Home
1. Puzzle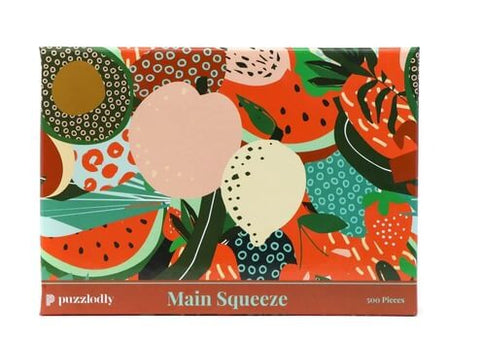 from puzzledly, "Main Squeeze 500 Piece Jigsaw Puzzle for Adults"
Puzzles are a great way to decompress while cooped up inside all day. An employee can spend 10 minutes putting some pieces together here and there until it's finally complete. A cool 3D puzzle can be fun and displayed at an employee's desk.
2. Desk Plants
Studies show that having plants in the office can help reduce anxiety and overall stress in a work environment. So, why not encourage peace of mind and send a bonsai tree or succulent to your remote workers?
3. Office Knick-Knacks
Creative sticky-note dispensers, fake cacti for push pins, and even fidget toys can keep your employee's creative juices flowing and remind them that it's ok to take breaks.
Gifts for New Employees
4. Wearable Swag
You want your new employees to be proud of where they work, so give them some swag on their first day. Hats, t-shirts, drawstring bags, and jackets are things they can use and wear every day.
5. Helpful Tech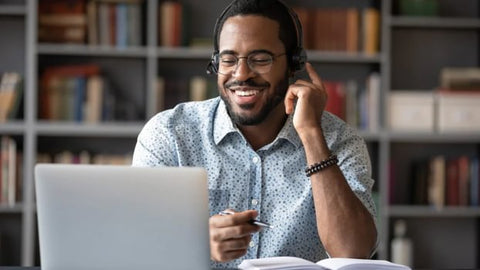 If their job would be made significantly easier and more enjoyable with certain tech, have that on their desk for when they start. These could be items like keyboards, a wireless mouse, a monitor, headphones, and any other technology specific to their role. Communicate clearly what equipment is office property and what gifts are meant for employees to personally keep.
6. Notepad and Pens
Notepads and pens are always useful. We all use them to stay organized, and you can send them something high-quality and unique to make them feel even more appreciated.
Gifts for Departing Employees
7. Farewell Meals
Meals are a great way to make employees feel celebrated for their contributions. This could be a lunch with their team, a paid-for dinner they can enjoy with their family, or a care package of catered food you send to their house.
8. Personalized Desk Item
When an employee is moving on to bigger or better things, send them off with a personalized desk item. Whether it's a branded mouse pad, coffee mug, or laptop stand, pick something unique that will help them reflect fondly of their time with your company.
9. Photo Scrapbook
How about employees who have become genuine friends to you and other coworkers? These employees will be truly missed, and something made with a personal touch can be especially meaningful. Find a photo journal, or make your own out of construction paper and cardboard, and fill it full of photo memories you've shared over the years.
Gifts for Notoriously Hungry Employees
10. Care Package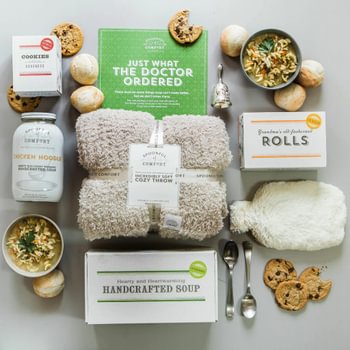 You know the person we mean. There's always that one worker who sneaks in an hourly snack break. Maybe a snack care package would be right up his or her alley. Fill a basket with candy bars, potato chips, jerky, juice, or anything you've seen him or her enjoy while on the job.
11. Cooking Tools
Does your employee love bringing in baked goods to share with the office? You can show you appreciate him or her (and encourage him or her to keep bringing those tasty treats) by gifting some specialty cooking tools. Things like cake molds, rolling pins, baking sheets, or unique cookie cutters could elevate hobbies to new levels of deliciousness.
12. Coffee Cups
Gifting a spiffy new coffee mug is always fun. Who doesn't like a new excuse to visit the water cooler or coffee pot, anyway? Choose something personalized with a favorite quote, a trendy design, or even a photo of his or her face on it—it's easier to spot when "borrowed" from the break room.
Gifts for the Holidays
13. Travel Accessories
For employees who you know will be hitting the road for the holidays, give a neck pillow, mini-travel kit, or other travel accessories to make travels more enjoyable this year.
14. Time Off
Giving the gift of time this holiday season may be the most meaningful thing you can do. Employees will be able to use that time to celebrate with family and loved ones, and they'll come back to work more energized and productive after some much-needed rest.
15. Company Gift Exchanges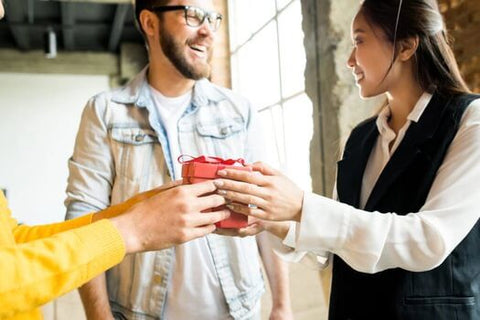 Encourage your employees to join in on the spirit of giving by organizing a company gift exchange. These exchanges can be organized where everyone is assigned one person and has an idea of what they would like for a present. This is a great way to make everyone feel special and boost comradery between employees across departments.
Gifts to Let Employees Treat Themselves
16. Spa Baskets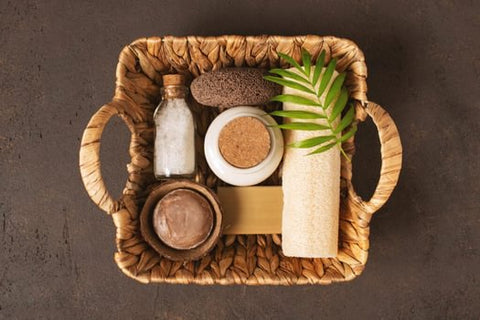 Many people love a good spa treatment—even more appealing when they don't have to pay for it. A spa treatment basket could be full of skin cleansers, energizing masks, and shower gels to make them feel their best.
17. Massage
Giving a massage pass to your employees, whether it's to a professional masseuse or even just to a high-tech massage chair, can help relieve many stressors. If your budget allows for it, bring a masseuse to your company's location for anyone interested.
18. Food Gift Baskets
Food is a personal and thoughtful way to treat someone. And you can send it right to someone's home with a gourmet food basket. Spoonful of Comfort's Corporate Gift Baskets will treat your employees to delicious soups, rolls, and cookies wrapped up in a beautiful package. Plus, you can add your sentiments in a personalized, handwritten card.
Make Your Present Memorable AND Delicious
Hopefully, this list has sparked some great ideas for your employee gifts that will help your employees feel valued. Spoonful of Comfort's Corporate Gift Basket will make your employees feel the comfort that comes from soup with your personalized letter thanking them for all they do. Plus, who doesn't feel better after a hearty bowl of soup? So, Spoonful of Comfort today and see what your employee's gift basket could look like this year.

This article is part of our
Corporate Gift Giving Guide
to guide you to find the perfect gift for every gift-giving occasion in business. Don't forget to sign up for your
Corporate Gift Account
today and get a discount on corporate gifts for your employees, clients, and customers!
Corporate Gifts
Executive Gifts
Gifts for Employees
Gifts for Clients