15 Gift Ideas to Celebrate a Job Promotion
Great Gifts to Celebrate a Job Promotion
Getting a job promotion is a huge accomplishment, and that hard work should be recognized and rewarded. Even if this isn't someone's first job promotion, celebrating the achievement is always a good idea. There's no better way to reward them for their efforts than with a unique gift.
However, you'll want to give a gift that can help make their job easier. After all, a promotion usually comes with new responsibilities. Maybe they got promoted from supervisor to manager and have to spend more time interacting with clients or speaking to vendors. Or maybe they'll be required to work longer hours or spend more time traveling for corporate business presentations. Whatever the case, get them something they can use regularly. Our list of the top 15 gifts for job promotions can help give you some ideas.
Personalized Gifts for Job Promotions
While a gift in general is always thoughtful, a personalized gift goes the extra mile and shows the receiver that you put special thought and consideration into their gift. Studies have shown that people who receive personalized gifts value them more than non-personalized items. Additionally, personalized items sell 40% more on average than non-custom or standard version items.
Here are a few "congratulations on your promotion" gifts that can be personalized for your fellow colleague.
Full Pad Portfolio: This pad portfolio is perfect for all those meetings they have to attend, documents they need to hang onto, or notes they need to scribble down throughout the day. It can be engraved with two lines of text, like their name and new title, and comes in three different colors. The inside has a side pocket for holding documents, two business card slots, a pen loop, and a lined notepad.
Business Card Holder: Help organize the business cards displaying their new title with a personalized business card holder like this one. Both sides of the case can be engraved with their initials or a congratulatory message and have a sleek, silver design.
Spoonful of Comfort Gift Basket: Celebrate their job promotion with a gourmet gift basket filled with homemade soups, rolls, and cookies from Spoonful of Comfort. Our baskets are customizable to fit the specific tastes of your colleague and come with a personalized note.
Personalized Carry-On Bag: If you know your colleague is going to be traveling a lot more with their new job, give them a monogrammed carry-on bag like this one from Mark and Graham. It features durable material, polyester lining, and a retractable hideaway handle for easy maneuvering. You can monogram the front with their initials for a personalized touch.
Congratulatory Plaque: Let your colleague feel like a winner with a customizable congratulatory plaque. Include text that recognizes their achievement or thanks them for their hard work.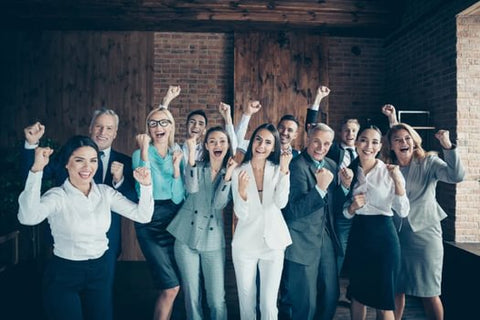 Office Accessory Gifts
It's no surprise that office accessories are on our list of congratulations gift ideas for promotion. Everyone needs office supplies, but rather than gifting a new stapler or a plain pencil cup, give something a little out of the ordinary. This will show that you put some thought into their gift and will help brighten up their desk.
Drawer Organizers: To ensure their desk drawers don't get cluttered and messy, give them a set of drawer organizers. These will keep everything from incoming documents and memos to paper clips, tacks, and pens neat and organized. Consider purchasing some in their favorite color for a personal touch.
Lap Desk: If they have to take work home, have a long commute, or are traveling, a lap desk allows your colleague to work comfortably and easily. It conforms to the shape of their lap and has a slot for phones and an integrated mouse pad.
Phone Stand: Give your colleague easier access to their phone with a phone stand that allows them to easily see their incoming messages or notifications. A phone stand like this one brings some humor and color to any desk.
Zen Garden: A new job is bound to be stressful at times. Help your colleague relax and unwind for a few minutes with a desk zen garden. They can draw patterns in the sand or rearrange miniature rocks and plants to destress.
Desk Organizer and Planter: Bring a bit of nature to their workspace with a stylish desk organizer that doubles as a planter. It's perfect for holding pens, pencils, paper clips, or other small office supplies and features gorgeous succulents.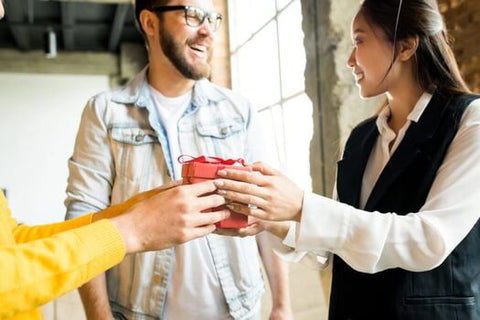 Inexpensive Gifts for Job Promotions
Even if you don't have a large budget for gifts for job promotions, you can still express your congratulations with a thoughtful, inexpensive present. Oftentimes, just sending a note or treating them to lunch is a perfect way to recognize their achievement. Here are a few other gift ideas that are budget-friendly.
Herbal Smudge Kit: This tiny smudge kit from Spoonful of Comfort helps restore positive energy by burning herbs. It even comes with instructions and a personalized note from you.
Good Luck Elephant Statue: An elephant whose trunk is in the air is thought to bring good luck to the receiver. It also makes a great desk accessory and shows your support.
The Making of a Manager Book: If your colleague has recently been promoted to manager, this book can help give them guidance on effectively managing teams and resources. They're sure to appreciate it, as taking on a managerial role for the first time can be daunting.
Coffee Sampler Pack: As your colleague prepares to take on new responsibilities, give them an extra boost of energy with a coffee sampler pack. This one features 40 coffee pods with various flavors they can sample.

Congratulate Your Colleague with a Unique, Thoughtful Gift
Nothing recognizes your colleague's hard work and efforts than a gift that has been carefully selected. And just as important as the gift is the packaging, delivery, and note. Make sure that your gift is appropriately wrapped and given at the right time. Try to avoid giving generic "congratulations" notes and instead express genuine support straight from you and your team.
When you choose a corporate gift from Spoonful of Comfort, we'll ensure your gifts for job promotions are beautifully wrapped, quickly shipped and delivered, and feature a personalized note from you or your team. Visit our corporate page to learn more about our delicious, homemade gourmet gift baskets and how you can save 15% on each order.
This article is part of our
Corporate Gift Giving Guide
to guide you to find the perfect gift for every gift-giving occasion in business. Don't forget to sign up for your
Corporate Gift Account
today and get a discount on corporate gifts for your employees, clients, and customers!
Corporate Gifts
Executive Gifts
Gifts for Employees
15 Gift Ideas to Celebrate a Job Promotion (← You are here)
Gifts for Clients