Mother's Day Gift Ideas From Daughter: This Year, Spoil Your Mom
Mother's Day Gift Ideas
Mother's Day is coming up, and like any loving daughter, you're wondering what gift could truly thank Mom for all the love and support she has shown you through the years? It's got to be just right.
After all, there's nothing like the bond between a mother and daughter. Mother's Day gifts from a daughter show her that you appreciate all she's done for you, from cooking comforting meals when you were sick as a kid, to offering a listening ear when you're feeling down, to being your loudest cheerleader through all of life's hurdles.
Want a few suggestions for good Mother's Day gifts from a daughter? Because she's Mom, we bet she'll love any gift from the heart. But these Mother's Day present ideas are guaranteed to make her feel like a queen.
See more Spoonful of Comfort Mother's Day Content
[Mother's Day Gift Guide]
Mother's Day Gifts from a Daughter

(➜ Currently Reading)
[Mother's Day for a Grandma]
[Mother's Day General]

➜ Order the special Mother's Day gift package from Spoonful of Comfort!
Mother's Day Gifts from a Daughter
You've given mom a number of Mother's Day presents through the years, from fingerpaint and hand-print masterpieces to macaroni jewelry. And, we'll admit, those are some treasures that are hard to beat.
Whether your mom would love a day at the spa, a comforting meal, or a piece of bespoke jewelry, you're sure to find inspiration here for the perfect Mother's Day present from a loving daughter.
Homemade Gifts
The best Mother's Day gifts from daughters don't have to come from a store. Mom still appreciates a tasteful hand-crafted gift, especially now that your crafting skills have moved beyond noodle art. Try these DIY Mother's Day gift ideas:
Succulent Garden
Designing a mini succulent garden is a great way to add some green and fun into mom's day—and it doesn't really require any crafting skills. Head to your local nursery and select a few small succulents and choose a pot for them that fits in nicely with your mom's decor. Each time she spots her new plants, she'll think of you.
Sugar Scrub
If your mom needs to take a little more time for herself (what mom doesn't!) give her an excuse to pamper herself with some DIY sugar scrub. It's simple to make, and you can customize the container, scents, and colors to make it the perfect personalized gift for your mother.
Photo Book
Is your mom a grandma? If so, she can't get enough pictures of her grandbabies. Create a photobook of family photos on Shutterfly or your local print shop. Instead of (or in addition to) pictures of grandchildren, you can print photos from your mother's childhood so she can look back on her own memories.
Pressed Flower Art
Flowers are a classic gift to a mother. This year, make a bouquet that will last forever by creating pressed framed flower art. Preserve her favorite flowers in a memorable piece of decor that will keep spring's colors alive all year long.
Store-Bought Gifts
Your mom does a lot of shopping and gift-buying for everyone else in her life. On Mother's Day, it's her turn to be shopped for. Get some inspiration for store-boughtMother's Day presents from a loving daughter:
Trinket Plate
We all need help remembering our keys and keeping our earrings together. Believe it or not, your mom also sometimes needs help remembering that she's loved. Help her keep what's most important top of mind with this trinket dish, which reads "Remember I love you, mom."
A Good Book
Nothing gives a mother an excuse to take some time to herself quite like a good book gifted by her daughter. If your mom is a reader, pick out a novel or two that features strong women. Check out this list—or browse her Goodreads account—for inspiration. If she's always on the go, an audiobook is a great option.
Flower Vase
A flower vase is a classic gift. Choose a stylish vase that fits your mom's personality, and commit to always keeping it filled with fresh flowers. For a unique twist on the classic, consider this bedside vase that doubles as a smartphone holder.
Charging Device
Speaking of smartphones, another great Mother's Day gift is this classy wireless charger. It helps reduce the clutter in her life by getting rid of all the cords, and keeps her phone charged and ready for phone calls from her kids.
Bedside Bell
Looking for a gift that's a little tongue-in-cheek, but still communicates your appreciation? Get mom a bedside bell to let her know she deserves a little R and R. She can sit back, ring that bell, and let the family come running to HER needs for a change.
Edible Gifts
Great food is comforting, soothing, and peaceful. Your mother deserves to feel all of that. These food-based Mother's Day gifts from a devoted daughter are sure to do the trick.
Cupcake Bouquet
Bouquets of fresh flowers are wonderful. Bouquets of fresh cupcakes are even better. Learn how to make your own cupcake bouquet, or have one delivered.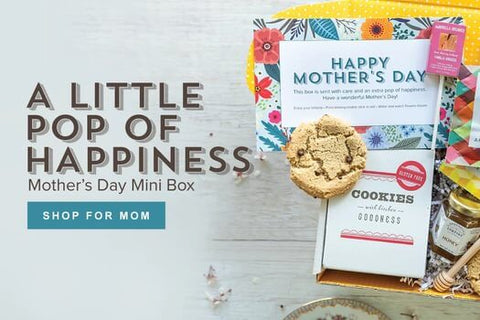 Soup in a Box
There's nothing more soothing than soup, especially during uncertain times. Give your mom the comforting meal she deserves with a Spoonful of Comfort care package, which includes your soup of choice (yes, soup can be sent in the mail!) plus six rolls and six cookies, packaged up in colorful wrapping designed to bring a smile to her face.
French Macarons
These fluffy little clouds of sugary happiness are a treat for a special occasion—and any holiday celebrating your mom is worth marking with delicious French macarons. Call her local French bakery to have them delivered or, if you're feeling daring, try making them from scratch yourself.
Cookie Butter
Does your mom love cookies? Whip up some cookie butter made from her favorite variety—Oreo, Biscotti, Chocolate Chip, Snickerdoodle, and more. This guide to turning any cookie into a delicious dip will make for a sweet Mother's Day.
Gift Cards
Gift cards aren't a cop-out: they give your mom an experience to look forward to and later look back on, and give her a choice about what to buy.
Dinner Out
Give mom a gift card to her favorite restaurant—and maybe she'll invite you to come along for some mother-daughter time!
Shopping
For some moms, the joy is in the journey when it comes to getting something new. Give her the gift of some time to shop for herself with a gift card to her favorite store.
Pampering
Massage, a facial, a mani pedi—any gift card that gives your mom the chance to get pampered is a Mother's Day gift that will definitely be appreciated.
Memorable Experience
Is there an experience your mom would love—a concert, a visit to an art museum or the aquarium, or a conference about a topic she loves? Maybe a cheese-making or cake-decorating class? Get her a ticket or gift card and send her out for an experience to remember.
Getaway Gifts
Want to earn favorite child status this year? Send mom on a getaway for Mother's Day. Even better: make it a mother/daughter trip.
Martha's Vineyard
Take mom to the historic Harbor View Hotel for Martha Vineyard's annual celebration of Mother's Day and spring, the Pink and Green Spring Fling.
Pompano Beach
If you have an adventurous mom, head to one of Florida's best diving destinations and learn to scuba dive together.
Napa Valley Wine Train
See wine country in a unique way: the Napa Valley Wine Train treats mom to winery tours, delicious food, and 180-degree views of the vineyards.
Savannah Riverboat Cruise
Experience Southern charm together and enjoy great views of the city, paired with great food and entertainment, on a Savannah riverboat cruise.
Sentimental Gifts
The relationship between a mother and daughter is something to cherish. Celebrate that bond with these sentimental Mother's Day presents from her daughter.
Personalized Jewelry
Custom inspirational jewelry will give mom a daily reminder of her children and her cherished role as a mother. Write a message of love for her and preserve it in a handwriting bracelet, or get her a bar or round necklace that includes the names of her children, their birthdates, or simply the word "Mom."
Painting
Get a custom mother and daughter painting depicting the two of you together, or commission a soft watercolor painting of the whole family.
Personalized Mug
There's no place like home, and even if your mom moved away from your childhood house, visiting her always feels like coming home. Celebrate that with this mug, printed with "Home is where my mom is," and customized with states marking where you both live.
Your mom has done, and continues to do, so much for you and your family. A well-chosen gift is a great way to honor her. Think about her preferences (not yours, though it's tempting!). Would she love something sentimental and tangible? Something she can look at often and remember her daughter? Or is a comforting or pampering experience what she's craving? And speaking of craving, maybe some gourmet treats?

Choosing a good Mother's Day gift from a daughter can be a treat in itself.
Spoonful of Comfort is offering a 2021 Mother's Day special: a complete meal of soup, rolls, and cookies (just like the kind she'd make!), plus a plantable floral lollipop. We make it easy for you to send some love to your mother on her special day. Order your gift baskets and care packages today!