26 Mother's Day Gifts for Mothers to Be
Great Gifts for Mothers To Be
Looking for a present for an expecting mother? Us, too! When your bestie, co-worker, neighbor or family member is expecting a little one, you want to get a little something to celebrate with them.
Mother's Day is a great time to cheer for these cute moms-to-be! Spoonful of Comfort has unique Mother's Day gifts for already-moms. And guess what? We also have a new Pregnancy Care Package for a gal with a bun in the oven to enjoy while she's pregnant. Plus, it's a gift just for her (leave the tiny aww-invoking outfits for the baby shower!).
While doing our own shopping, we've found these 27 Mother's Day gifts for mothers to be that bring even more reason to be happy about having a baby.
Gifts to Help Expecting Mothers Relax
Every woman feels more stressed when she's pregnant. With her ever-changing body and pregnancy hormones swinging her moods all over the place, it can be hard to remain level-headed. So make sure the woman in your life can relax and destress at any time of the day with these Mother's Day gifts for moms to be.
Pregnant mothers want something they can lounge in after a long day (or just stay in all day when they don't want to get dressed). With a maternity robe, they can wrap themselves in comfort throughout their entire pregnancy—no matter how big their tummy gets.
As the pregnancy progresses, expecting mothers will probably get frustrated when they can't fit into any of the clothes they love so much. That's why you should get her something she can feel stylish in while still leaving room for her baby bump. This tunic dress from Ingrid & Isabel is perfect for going out with friends, dressing up for a Zoom conference call, or just dressing up because she feels like it.
Shower steamers are perfect for those who want a relaxing aromatherapy session as they get ready for the day or unwind with a hot shower. Body Restore offers lavender, eucalyptus, and citrus scents in their shower steamers, producing a pleasant aroma while she relaxes under a stream of hot water.
Like the shower steamers, bath bombs can add aromatics to bathing routines. Lush's bath bombs infuse bath water with essential oils and an invigorating surge of color and aroma that can both relax and moisturize. All she needs to do is draw a bath, throw in the bath bomb, and soak.
Pregnant women just want to be comfortable, but aching joints and a heavy tummy can quickly get in the way of that. The Body Nest Pillow can help change that. Its U-shaped design is crafted to comfort joints and cradle bellies, making it the perfect companion for sleeping through the night or taking a midday nap. And even after she doesn't need to cradle a tummy anymore, the Body Nest Pillow will continue to be a great cuddle buddy.
Foot Spa
You've maybe already heard that soon-to-be mother complain about her swollen or cramping feet, which many women experience while pregnant. When her feet start to swell, a foot massage is in order. A foot spa will relieve tension in her feet and the aches in her joints.
Get your expecting mother some slippers to keep her feet comfortable at all times of the day. She'll want comfortable shoes that let her feet breathe and accommodate all the swelling. These Ugg slippers can help soothe that burden and may turn into her favorite shoes even after the swelling stops.
Massages, baths, diffusers—almost anything that can help your mother-to-be relax can be improved with essential oils. This set comes with 16 different oil fragrances, so she'll be sure to find a handful she likes using the most.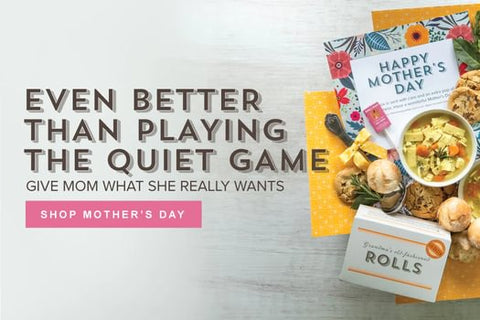 Gifts to Keep Expecting Mothers Busy
What can you do in nine months (besides gestate a brand-new human being)? How about learning a new hobby, staying healthy, or just preparing for the baby to come. Here are some Mother's Day gift ideas for expectant mothers who can't sit still.
Does the expecting mother like checklists? Then she'll love this pregnancy journal. With it, she'll be guided through every week of her pregnancy and get advice on maintaining her health and properly preparing for the baby to arrive. This journal and planner may also help her alleviate the stress of planning for her baby to come since she'll have some clear tasks to accomplish.
If the mother-to-be wants a little more control over her baby bump schedule, then she'll love this new pregnancy planner. This planner has a list of essential items she should take care of while she's pregnant. The planner is divided into the three trimesters and even has a section for the first year of the baby's life.
Eating while pregnant is a finicky thing—what used to be a favorite doesn't sit well anymore. And those cravings! This pregnancy cookbook contains over 125 delicious recipes that can satisfy the mother and nourish her baby at the same time.
After baby is born, mommy needs time to rest and recover. The First Forty Days is a cookbook that walks through the vitamins and minerals a new mom needs after giving birth to keep both her and her newborn healthy. It offers several recipes for replenishing meals that give her the nutritional support she needs.
Expecting mothers may want to occupy their minds with a good book. Giving them an Amazon Kindle lets them access any book they could wish to without having to go to a bookstore or lug books to and from the library. It can be the perfect companion for when she gets ready for bed or just wants to pass the time.
Letters to My Baby is the type of journal both the mother and her baby can enjoy together. Twelve writing prompts let her record her memories of the pregnancy and the first moments of the baby's life. Once she's written down her thoughts, she'll seal them in an envelope, which her baby can open and read once they're all grown up. It's a great way to share memories that could otherwise be easily forgotten.
If the soon-to-be mom likes to capture every moment of her pregnancy on her phone, she will love getting an instant photo printer. With it, she can print photos directly from her smartphone to put on the fridge, in her journal, or in a scrapbook to remember this time.
Maybe the expecting mother just needs a good laugh. The Big Fat Activity Book for Pregnant People can do exactly that. In it are hysterical worksheets, quizzes, and activities expecting mothers will love to complete whenever they're bored or can't sleep at night.
If the expecting mother wants to stay in shape with some non-strenuous exercises, a yoga ball can do wonders. Yoga ball exercises can strengthen core muscles, which makes delivering the baby a little easier on the mother. Yoga ball exercises can even help induce labor.
Gifts to Make Pregnancy a Little Easier
Any pregnancy takes a toll on the mother's body. Luckily, you can give her plenty of remedies to ease her pain and make life easier in general. Here are some Mother's day gifts for pregnant moms that can make their pregnancy a little more bearable.
Swelling feet, which usually start around the fifth to seventh month of pregnancy, can persist until after the baby is born. In some pregnancies, swelling feet can even cause varicose veins to appear. But no need to worry—wearing compression socks can ease those symptoms and keep them from getting worse.
Most expecting mothers start to feel nauseated in their sixth to tenth week, which tends to persist until their sixteenth week. Many women can feel queasy immediately after waking up, but a hot cup of morning sickness relief tea can fix that. Pink Stork's ginger orange tea can help an expecting mother ease her stomach in the morning and calm it whenever her tummy is turning.
If your soon-to-be mother wants a more convenient way to keep her tummy happy, these ginger Tummydrops will do the trick. These digestive lozenges are conveniently wrapped, so she can keep some in her purse, on her nightstand, or wherever else she needs them within a moment's notice.
Stress, anxiety, and depression are incredibly common feelings during pregnancy, so your mother-to-be should do everything she can to maintain her mental health. The Mental Wellness Box offers resources on mental health topics and helps them along in their journey towards better wellness and self-care.
For the women who turn into extremely light sleepers when they're pregnant, sleeping masks can take away the issue of excess light in the bedroom. These silk sleeping masks lie comfortably on her eyes so she can sleep through sunrises and her partner watching TV beside her.
No mom wants to keep her stretch marks—they are the bane of every pregnancy belly. Using Burt's Bees Belly Butter during and after pregnancy can smooth those stretch marks, nourishing her skin and helping it recover faster after her baby is born.
Carpal tunnel during pregnancy is fairly common, so your mother-to-be will probably want a hand massage now and then. This hand massager melts away tissue and muscle tension, relieving her of any hand cramps she has during pregnancy. It's an excellent gift for after birth as well—moms who love to cradle their baby will probably experience hand cramps (aka the "mommy thumb").
If the expecting mother misses her cocktails, get her Drinking for Two. This mocktail recipe book is chock full of alcohol-free concoctions that are equally delicious and nutritious. These mocktails will help her nourish her baby and combat nausea, all while she unwinds after a long day.
Spoonful of Comfort's New Pregnancy Care Package is the perfect gift for moms to be who want a break from cooking while they're pregnant (or after they've just given birth). The tasty meal within the package includes a decadent soup, delectable rolls, and aromatic cookies to boot. The best part? You can choose exactly what kind of soup and cookies to include, letting you customize a basket that can satisfy any appetite.

Give Comfort This Mother's Day
If you have an expecting mother in your life, make sure she has an incredibly comfortable and relaxing Mother's Day this year—she deserves it now more than ever. We hope this list of Mother's Day gifts for mothers to be gives you some ideas.
If you wish to supplement your gift with more comfort food, check out our Mother's Day Package offer. It offers not only delicious food but an experience of joy and comfort every mother can appreciate.
See more Spoonful of Comfort Mother's Day Content
[Mother's Day Gift Guide]
Mother's Day Gifts for Mothers to Be

(➜ Currently Reading)
[Mother's Day for a Grandma]
[Mother's Day General]

➜ Order the special Mother's Day gift package from Spoonful of Comfort!