Personal Gifts in the Workplace: Gift Giving Etiquette in Business
Personal Gifts in the Workplace
Planning gifts for colleagues might be part of your workplace culture during major holidays (we see you, Santa coffee mugs). But what are the rules around co-worker gifts that relate to more personal occasions?
For example, is it okay to send a wedding gift to a newlywed colleague? What about a birthday gift for the boss? Baby shower gifts? Get well or speedy recovery gifts? This is where rules for co-worker gifts can get a little more muddled.
We've gathered some straightforward advice from gift-giving etiquette experts. While every company culture is a little different, you can follow these best practices to guide your gift-giving etiquette in business.

Respect office gift-giving policies
First of all, know your company's gift policy. A lot of people may not realize their business (especially if it's a large organization) has official rules around gift-giving and receiving etiquette. If you're not sure if your company has a gift policy or if you're unclear what it is, talk to someone in Human Resources. They'll be glad you asked, and you might avoid a potentially awkward situation.
Gift giving policies generally focus on the value of a gift and the position of the recipient in an organization. For example, many companies do not allow any employee to receive a gift worth more than $25. This number may have to do with tax laws around professional gifts. It could also be a matter of company culture.
A person's title or position in the company is an important factor in gift giving in business ethics. And it's the issue where gift givers are more likely to trip up. By stating who may give or receive gifts in the office, a company is aiming to avoid impropriety or the appearance of favoritism. These gift-giving policies often apply to people both inside and outside the organization.
For example, a decision maker who accepts a gift from a vendor could appear to be giving preferential treatment when dealing with that vendor in the future. An employee who gives the boss a lavish birthday gift could be accused of sucking up. And the boss who delivers a present to a favorite employee is, well, playing favorites.
That's why many businesses (and plain common sense) suggest a comprehensive gift policy. If you give to one person, you need to give to every person. It's about demonstrating equal treatment, unbiased professionalism, and non-discriminatory actions. Plus, it's just being nice.
When are individual gifts okay?
A comprehensive gift policy is all well and good during widely celebrated holidays. It's easy to apply this one-for-all philosophy to birthdays and employee milestone anniversaries. But what about the events that may not apply to each employee? Think weddings, new babies, funerals, or graduations, just to name a few.
Be as comprehensive as possible across your team. If you get one person a wedding gift, it would be appropriate to give the next newlywed something as well. Try to give the same type of gift across team members and occasions. Even better, consider a group gift from the team (more on this in a minute).
An essential rule of thumb in office gift giving etiquette is to give and accept gifts "across," but never "up" the org chart. In fact, company codes of conduct or employee gift policies often prohibit gifts to individuals who have responsibility or power over the giver. It's avoiding that "sucking up" thing again.
There are a few exceptions to giving gifts to a boss or manager, and they go right along with the common-sense guidelines already explained. If you're giving a gift to every person on the team for the holidays, include the team manager as part of that group—as long as he or she is getting the exact same gift. If you regularly give baby shower or wedding gifts to co-workers, you can choose to give the boss a gift that fits the same standards followed for everyone else.
Consider a group gift
Group gifts for stand-alone occasions solve many of the squishy issues around gift giving in business. Teams who pitch in on a group gift to a co-worker or boss share the expense of a high-quality gift. It can build a sense of camaraderie. And it gets away from being too personal.
What if you don't feel comfortable going in on a group gift? It's okay to politely decline. You may not know the recipient well or maybe you're not in a financial position to give. Group gifts should never feel mandatory in their organization. If you're leading the charge in getting a group gift, be sensitive to the people chipping in. Select a gift that lets people contribute a reasonable, equitable amount that's fair among the group. Choose gifts that are the same type and value for each occasion and employee.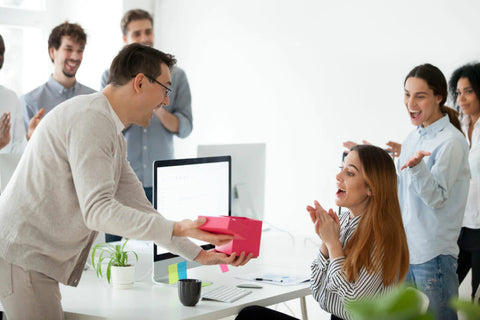 Don't make a show of gift giving in business
Exchanging gifts between co-workers is great during the office holiday party. On the flip side, don't make a production when presenting something for a stand-alone occasion.
Again, using common sense, a non-business celebration shouldn't be a distraction from the business going on. Have cake and present a group gift during a scheduled break or calendared lunch. Don't embarrass or draw unwanted attention to the recipient. And don't aim to look good by giving in front of other people.
Consider the appropriateness of the location for presenting a gift, too. If you're friends with a co-worker outside the office, and you're giving a gift based on that relationship, give that gift somewhere outside the office. Often, delivering a gift is the appropriate choice: a gift from a wedding or baby registry that's delivered to a home. A get-well gift that arrives at the hospital. Flowers that are sent to a funeral. If you're not sure if it's okay to send to someone's home, just ask. An assistant, family, or spouse can advise you on the situation. If you're uncomfortable asking for personal information, that may be a sign the situation is too personal for an out-of-office gift.
Choose co-worker gifts that are simple and sincere
When giving presents for co-workers, don't try to impress. Choose a gift that's thoughtful, meaningful, practical, or useful. You can find some great ideas for employee gifts, gifts for executives, and company team gifts in some of our other posts.
A gift to a co-worker can strengthen a working relationship. And the thing to do it best is the message you include with that gift. Share your thoughts about what you appreciate about that person, why you're giving the gift, or how you hope they can put it to use. A message from you (and not a greeting card company) goes a long way.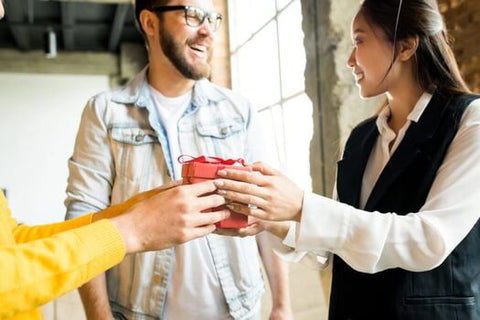 Gifts for work colleagues to avoid
Is giving any gift better than no gift? Not always. We think sincerity is always a good guide. But here are three other rules to apply to co-worker gifts.
Gag gifts can be fun, but you've got to be careful. Even when you think they may be harmless, gifts that relate to "protected characteristics" can inadvertently lead to claims to discrimination or inappropriate workplace actions. Gag gifts to avoid in general include "over the hill" or age-related items, products that derogate a physical or mental disability, and jokes that relate to stereotypes about race, gender, and culture.
Gifts that are "too personal." Don't cross the line between business and personal relationships when choosing a gift for a co-worker. Yes, you want to recognize what makes each person special. But gifts can unintentionally go too far into inappropriate territory. A good guideline is to avoid any gifts that would go on someone's body: perfume, jewelry, clothing (apart from say, a company-branded hoodie or hat).
Cash is a big no. Giving cash is almost always against company policies and can easily be misinterpreted. Gift cards are a better alternative. If you're in management, paid time off or bonuses (given in a comprehensive manner) are always appreciated.
Co-worker gifts from Spoonful of Comfort
At Spoonful of Comfort, gifts for colleagues are an important part of our business! We are fortunate to see people sharing comfort and care with their co-workers and teams during all kinds of personal situations. Here's what people are saying with their gifts to co-workers: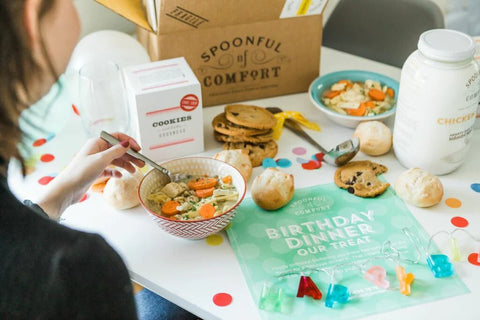 Co-worker gifts from Spoonful of Comfort are delicious meals anyone can use and appreciate. They're both meaningful and memorable. And a gift of soup, cookies, or a seasonal surprise is right for just about any occasion you can think of. We deliver gifts for work colleagues anywhere: Send a care package to someone's home, to a hospital or care facility, or even to the office where they can share with their team.
Whatever your reason for giving a professional gift, Spoonful of Comfort can help you nourish that relationship.
This article is part of our
Corporate Gift Giving Guide
to guide you to find the perfect gift for every gift-giving occasion in business. Don't forget to sign up for your
Corporate Gift Account
today and get a discount on corporate gifts for your employees, clients, and customers!
Corporate Gifts
Gift Giving Etiquette in Business (← You are here)
Executive Gifts
Gifts for Employees
Gifts for Clients