DIY Get Well Gift Basket: Make a Sick Friend Feel Better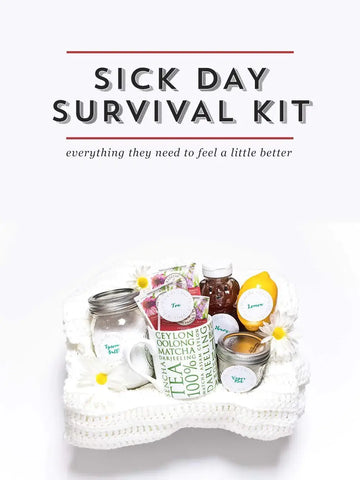 Your love language is giving gifts. Picking the perfect something is how you show you care. Thinking the thoughtful things .Gathering the just-right surprises. Putting it all together in the perfect get well gift package.
We love that about you because we're the same way. A crew devoted to gifting. Everyday we help hundreds of people send soup to friends and family across the country. Delivering hugs and high fives. Shipping warm thoughts with big boxes of hearty handcrafted soup.
But sometimes, the person who needs you is right next door. A co-worker who caught that bug that's been going around. A teacher with the sniffles. A friend who misses the sunnier days of summer. 'Tis the season for the blahs and mehs. And when you know your people are holed up with the yucky stuff, hovered under the covers with the perfect movie for a sick day, reaching for the Kleenex in a dark and lonely room. Why--there's just no having that happen because: you're so lovely like that.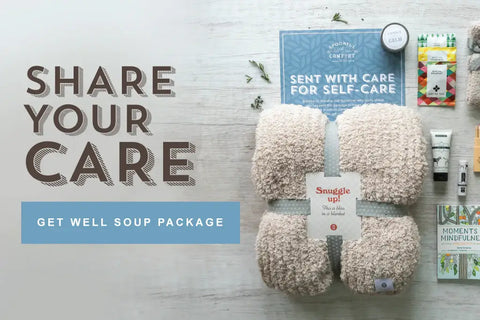 So while you're out running errands, why not gather a few fun basics, toss them into this DIY basket and drop them by this afternoon, special delivery.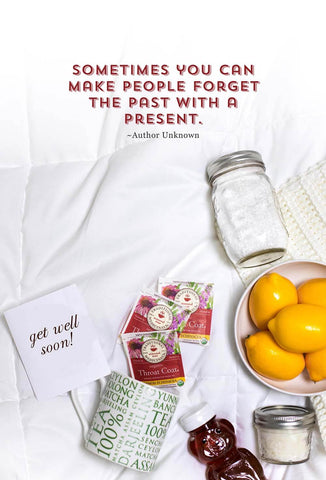 With a few simple supplies, you can send a simple Mini Sick Day Care Package guaranteed to help your friend feel better, fast. And, if you're feeling extra creative, we've got a quick and simple recipe for a homemade vapor rub that feels as good as it smells.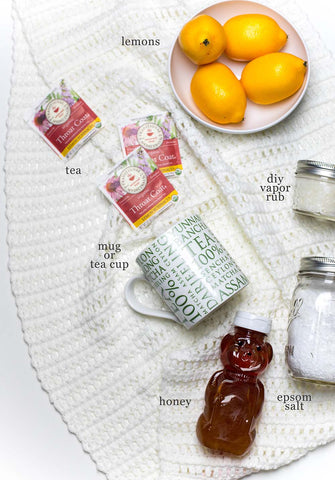 Essentials for DIY Get Well Soon Gifts
Ready to get started? Here's what you need:
From the Grocery Store:
Lemons: Perfect for squeezing into tea or warm water, lemons are full of antioxidants that help digestion, anti-inflammatories capable of soothing a sore throat, and contain immune-system boosting Vitamin C and potassium. Plus, yellow things are pretty.
Tea: Any favorite tea will warm up your loved one's day, but when battling a cold we love our favorite "Throat Coat" tea with lemon and echinacea. We've seen some variation of this tea in most local grocery stores, but it's always in stock at Whole Foods
Honey: A healthy sweetener that is also an antibacterial and antioxidant. You can grab a cute honey bear from the grocery store, or buy in bulk and package it individually in a pretty jar with ribbon or twine.
Epsom Salts: Adding epsom salts to a warm bath can help treat sore muscles, dry skin, and heal minor infections. You can find them in most local grocery stores in the vitamin or bath aisles.
From Your Local Craft Store:
4 oz. mason jars: the perfect size for epsom salts, honey, and our homemade vapor rub.
A cute basket or gift box: These are nearly always on sale at craft stores like JoAnn's or Michael's. Stock up during your next trip and always be prepared to help a friend in need.
Charming but functional dishcloth or throw blanket: keeps your package safe from breaking during transit, and give a gift that is always appreciated in a busy home.
Pretty mug or tea cup: You could use the mug from your last work retreat, but we are trying to help some feel better, remember? Pretty novelty mugs are another item regularly on sale at your local craft store.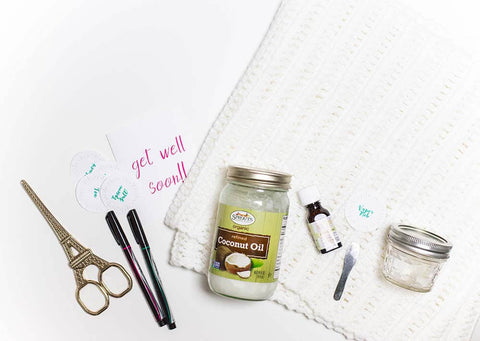 Putting Together Get Well Soon Basket Ideas
Once you've gathered your supplies, arrange the towel or throw blanket in the basket or gift box, slip the tea bags into the mug, add honey & epsom salts in coordinating jars, and fill in the remaining space with whole lemons. (We love adding a few fresh flowers for added cheerfulness.)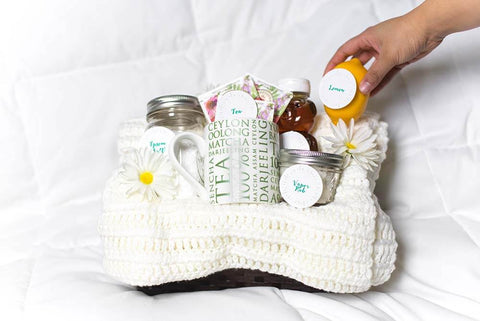 Get Well Soon Basket with DIY Vapor Rub
Feeling especially inspired? Consider making your friend a batch of homemade vapor rub to sooth congestion and stave off colds. The following ingredients are all available at local grocery stores, sans the pesky beeswax. Some specialty grocery stores carry beeswax pastilles (pellets,) but you can also order them on Amazon. Once you see how easy it is to make, you'll wonder why you ever bothered with the store stuff.
DIY Vapor Rub
¼ cup olive oil or coconut oil (available in the baking aisle at most grocery stores)
2 teaspoons of beeswax pellets (available online)
Essential oils of your choice: we recommend 8 drops of peppermint and 8 drops eucalyptus oil to improve breathing and decongestion (available online or near the vitamin section of most grocery stores)
Directions
Melt beeswax and oil in a standard saucepan over low heat until melted. Blend together and remove from heat. Add essential oils and stir until combined. Pour liquid directly into individual jars. Let the vapor rub stand uncovered until mixture has solidified. Add the lid, and your homemade vapor rub is good for at least 6 months!
When battling an illness, sometimes feeling a little better can make a big difference. Showing love through creativity is a sincere and unique way to let someone know you care for them, even when they don't feel their best.
When You Can't Deliver, We Can
As much as you'd love to deliver a handmade DIY, sometimes you can't pop by, because they live too far away.
Here at Spoonful of Comfort, we're passionate about gifting. Gifting moments. Gifting memories. Gifting messages of comfort, hugs and healing to the people you love most. For us, Get Well gifts started with a care package with soup. From Chicken Noodle to Tomato Basil, we make it easy to deliver beautiful boxes of handcrafted soup to loved ones far away, to any address within the continental U.S.
While our Get Well care package is the classic gift from Spoonful of Comfort, you can take it up a notch with our Total TLC care package that goes all in for getting well. On a smaller scale, check out our Sick Day care package with all the essentials for a day on the mend.
Click here to discover how easy it is to surprise someone you love with a custom-created package full of soup, cookies and fresh baked rolls. And if you really want to treat them, add on tea & honey, cozy socks or a comfy blanket, guaranteed to get them through their sick day with a smile.
You are reading a post from our Get Well Gifts Guide. Read on for more great ideas to help those you love (including yourself!) get well soon!
Get Well Gift Ideas
Get Well Food & Flix
Get Well - For the Hospital

How to Wish Them Well
Get Well Packages from Spoonful