28 Ideas for Unique Corporate Gifts
Ideas for Corporate Gifts
"What a unique gift!" It's a sentiment we hear a lot at Spoonful of Comfort, and we love it. After all, soup doesn't come in the mail every day! You've probably received a lot of gifts over the years—and we bet the ones that stand out were the gifts that were extra thoughtful, delightfully surprising, and maybe unlike anything else.
Sending a memorable gift is especially important in the corporate world. You want your recipient to associate the gift and its positive vibes with you. And you want your gift to stick in someone's mind, not get stuck in a junk drawer or (we'll say it) regifted. So to really strengthen a business relationship, find a gift with a little oomph. A unique corporate gift doesn't have to be expensive or off the wall. But it should be part of your effort to make your gift-giving moment both meaningful and memorable.
We've curated a list of 29 unique corporate gift ideas. Some are right for any business relationship, others might speak to the unique personality of a client, customer, employee, or executive. But you can use a unique corporate gift idea to nourish your business.
Unique Corporate Gift Ideas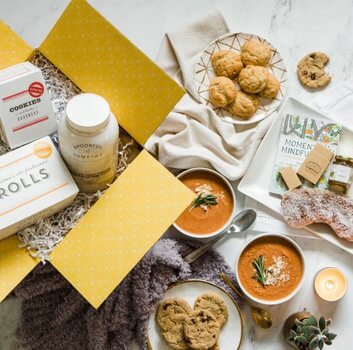 We'll proudly recommend a Spoonful of Comfort care package to our corporate customers—but they often beat us to it. Businesses around the country send Spoonful of Comfort to connect with customers, show they're genuinely thinking about their clients, and demonstrate care to their employees. Our classic gift package is a care package featuring gourmet soup, delicious bacci rolls, and outstanding cookies. To make it an even more unique corporate gift basket, you add a personalized notecard, plus you can customize the care package with our accessories or items from your company (like a business card, brochure, or company swag). See how companies use Spoonful of Comfort as unique corporate gifts. And be sure to check out the benefits of opening a free corporate account with us!
2. Rotating Revolver Pen Holder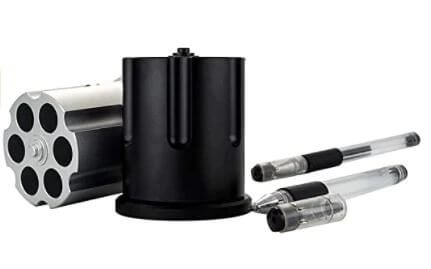 Speaking of western-themed items, this revolver-inspired pen holder is perfect for gun enthusiasts, hunters, and anyone who loves a good western flick. The holders are large enough to fit most pens, permanent markers, whiteboard markers, scissors, and other desk accessories.
3. Viking Drinking Horn Tankard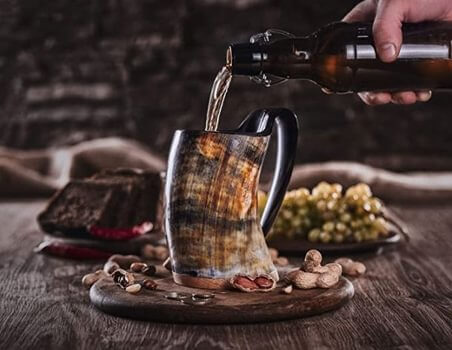 Take a break from giving the traditional coffee mug. A drink out of this ox-horn tankard will make anyone feel like a Viking chieftain. This beer tankard is made from a real ox horn and handcrafted and polished to give it that gruff, yet semi-elegant look. The tankard comes in three sizes: large (16 oz), extra-large (30 oz), and extra-extra-large (44 oz).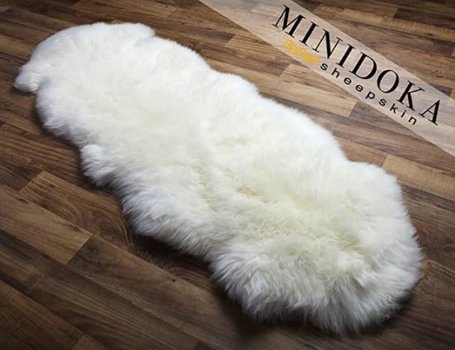 The versatility of this plush, natural-length wool rug will make it a source of comfort all year long. Not your typical office item, this unique corporate gift hits the spot for this unique Work From Home world we're in. Clients or employees can enjoy it on the couch, snuggling with their kodak or as something to rest their feet on while in the living room/bedroom/office. It's an easy and elegant way to add a Scottish-shepherd aesthetic to a home or workspace.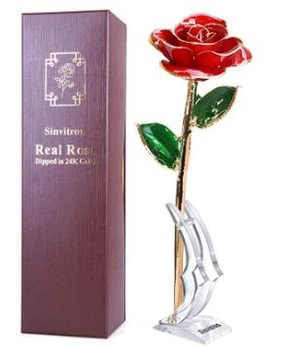 This gold-dipped rose is an elegant and unique twist to the classic trope of giving flowers as a gift. It's actually a real rose that's been coated in resin and then ornamented with 24 karat gold on the stem and on the edges of the rose petals. It works beautifully as a unique centerpiece that will be sure to spark a few conversations.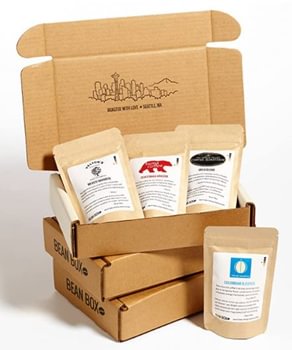 Do you have any coffee fanatics in your ranks? Every month, Bean Box curates four gourmet coffee blends from Seattle's top roasters. The box also comes with tasting notes, brewing tips, and roaster profiles so there are no questions about how to make your own gourmet cup of coffee.
7. Sporting Accessories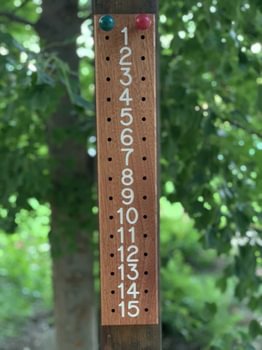 Is there a unique sport your client or business partner is really interested in? Then give them an accessory specific to that hobby. For example, if they're really into bocce ball, you could get them this bocce scoreboard from Etsy. Or you could introduce them to a new game, like this ladder toss lawn game.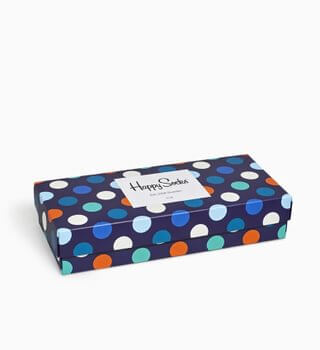 For those who like their socks to be the highlight of their wardrobe, this gift box from Happy Socks is the perfect gift. With colorful stripe, polka-dot, and argyle patterns, they can flaunt these socks almost every day of the week.
9. Wine Bottle Stopper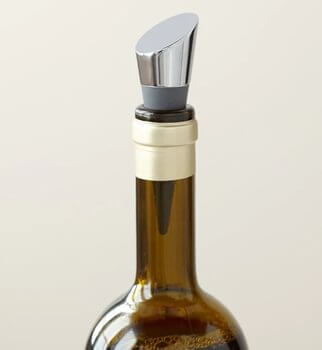 Do your clients or business partners use (or drink) wine when cooking dinner? Or maybe they have some high-end olive oil in a glass bottle. If so, consider getting them a wine bottle stopper. It adds a perfect touch of elegance to any glass bottle.
10. Magnet Toys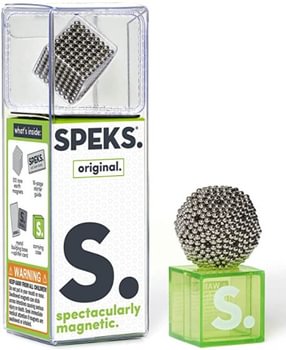 This is not your average desk toy. These small magnetic balls can turn a 10-minute break into a creative exercise. They can be used to create intricate designs or small sculptures, and they are a great distraction and calming device during a particularly stressful workday.
11. Assorted Spices
Is there an amateur gourmet chef you're shopping for? Then they might be interested in these spice variety packs from Spiceology. These spices are great for anything that needs some fancy seasoning, be that seafood, grilled veggies, steak, or even popcorn.
12. Premium Olive Oil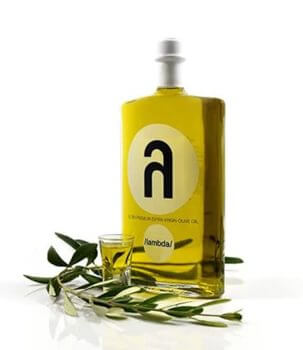 Premium extra-virgin olive oil allows your home cooks to create something with incredible flavor. The Lambda olive oil has fruity notes that add to favorite sauteed dishes, and can be matched with a high-end balsamic vinegar for dipping artisan bread.
13. Professional Kitchen Knife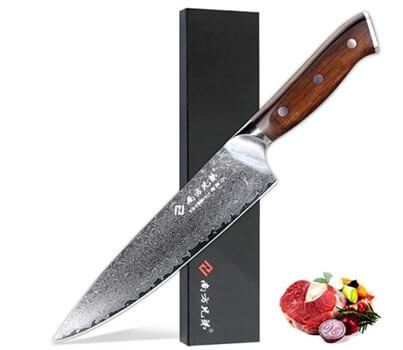 This Damascus steel knife has an intricate engraved design and a black rosewood handle, and is another perfect gift for the chefs in your office.
14. Tile Tracker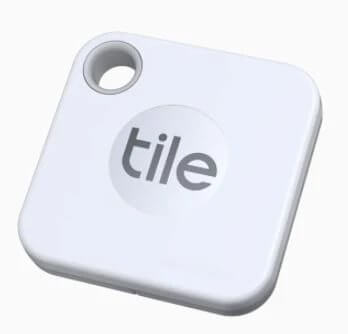 We all know someone at the office who loses their water bottle or their keys at least three times a day. Tile was invented with these people in mind. This small square can attach to a key ring, a backpack, or even a pet's collar. It has a 200 ft Bluetooth range that can be tracked in a Tile Tracker smartphone app.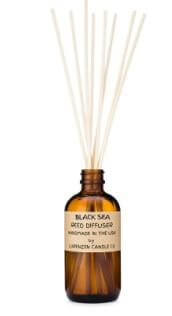 A scent diffuser that's as stylish as it is practical, reed diffusers are a great gift for anyone who uses aromatherapy to reach their state of zen. The scented oil will slowly diffuse over a period of 2-3 months, and is recommended to be used in a smaller space to produce optimal aroma.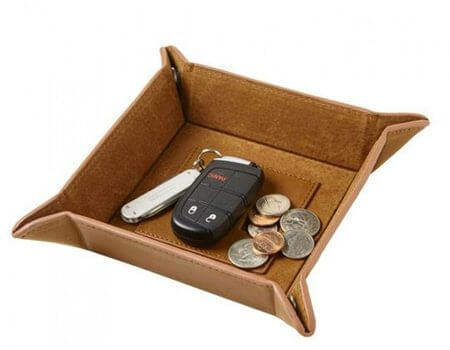 A leather valet is a travel accessory that many people may not think to buy on their own, but it can be a lifesaver for the unorganized. It's a little tray to place on a bedside table that holds keys, wallets, loose change, and anything else worth keeping track of. This valet's snap design lets it fold flat, making it easy to pack on any trip. And, if you order these in bulk at corporategift.com, you can stamp your logo on it for a personal touch.
17. Oh, The Meetings You'll Go To!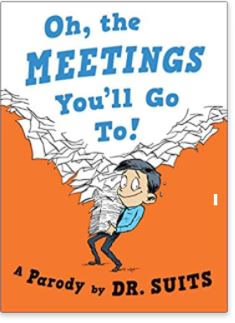 Particularly applicable to your new hires that came straight from college, this Dr. Suess parody book is sure to elicit a few chuckles.
18. Amethyst Coaster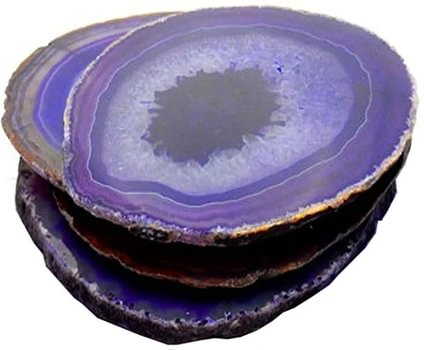 Even fancy wood coasters can be a little dull. Gemstone coasters, on the other hand, are surely unique enough to excite your recipient. This set comes with four purple stone coasters. And because they're cut from real stone, each coaster has its own unique size, color, and pattern.
19. Leather Mousepad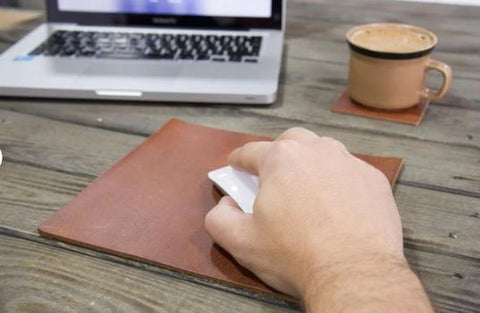 Few people have a mousepad that they didn't get from a job fair. Other people might not even use a proper mouse pad at all. That's why these handmade leather mousepads can be an utterly unique corporate gift, adding a level of class and sophistication to any desktop.
20. Word Clocks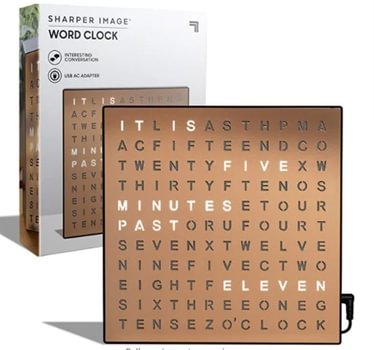 Word clocks offer a new, unique way of telling time. Instead of numbers or dials, this clock will light up words to tell you the time in five-minute intervals. Its copper plating on the front also makes it an attractive accent piece.
21. World Travel Map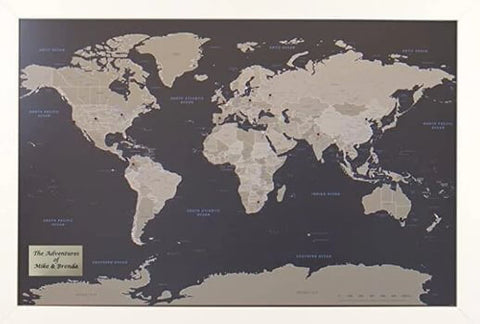 For world travelers who could use a way to physically track where they've been, this push pin travel map is all they could ever ask for. It comes with a stylish wood frame of either natural tones, black, or white, and includes a personalized plaque. Plus, the map's minimalist and elegant design makes for an excellent centerpiece in a room.
22. Desk Mobile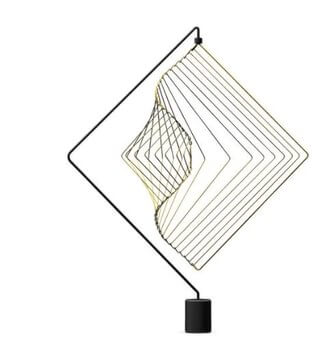 Speaking of centerpieces, this kinetic desk mobile will mesmerize anyone who walks by. Designed by a British sculptor who was inspired by the Fibonacci Sequence, this mobile's metal rods mutate into unexpected shapes as it spins. It looks great on a table or hanging from the ceiling.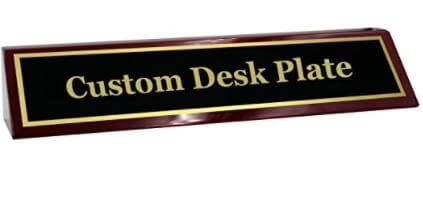 The perfect touch of elegance, a custom nameplate can make a person's desk really feel like their desk. But custom engravings means you can get creative. If the gift recipient has a nickname around the office, or always refers to themselves as "the champ" after winning a water chugging competition, make that title official with a nameplate.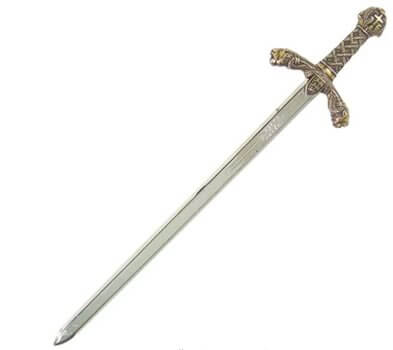 Just under a foot long (11 inches), this miniature replica of the medieval sword blurs the line between opening a letter and slaying a dragon. Well, not really, but it can make going through mail feel more exciting.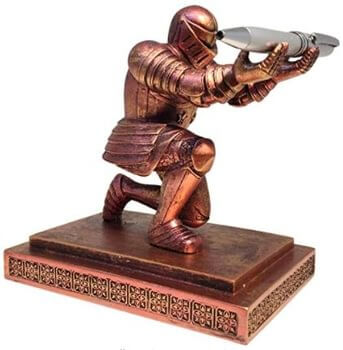 Going along with the medieval theme, fantasy fans and history buffs will both go crazy for this pen holder. The knight pen holder may inspire a moment of reverence and importance every time someone reaches for their pen. It proves once and for all that the pen is truly mightier than the sword.
26. Tissue Box Cover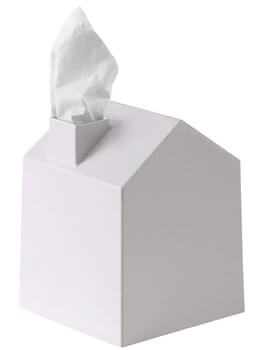 For those who blow through dozens of tissue boxes during allergy season, this tissue box cover will turn a boring tissue box into a functional art piece. It works with any boutique-sized (square) tissue box, and its simple design will add a decorative touch to any room it sits in.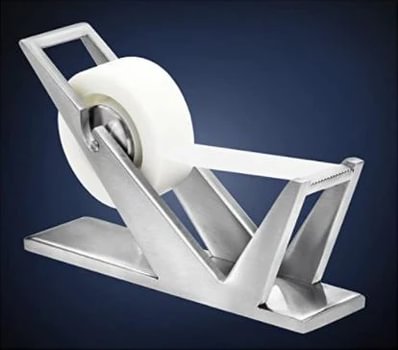 This modern art tape dispenser provides another unique way to spice up a basic desk item. Made of stainless steel and given a satin finish, it's sleek design might make it the most used tape dispenser in the office. It also comes with its own, well-designed packaging, making it perfect for corporate gift-giving.
28. Desk Lamp and Charger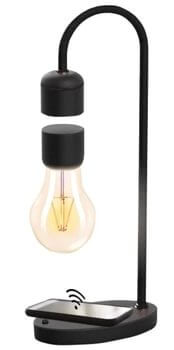 This might be one of the most unique desk lamps on the market. Its simple yet intriguing design features a floating lightbulb and wireless phone charging. It's also designed with safety in mind; when it's cut from power, the bulb snaps upward so shattered glass isn't an issue.

Plan Your Unique Corporate Gifts the Right Way
Once you've found a winner among these unique corporate gift ideas, remember that the presentation is as important as the gift itself. Make sure the packaging, greeting, and shipping give the credit your gift deserves.
And Here's a little plug for a unique service that comes along with our unique corporate gifts. At Spoonful of Comfort, we take care of every aspect of gifting for you: mailing lists, notecards with personalized messages, packaging, shipping, and any potential troubleshooting. Seriously. On top of that, when your business has a corporate account, you'll get a 15% discount on every order and get loyalty perks, too! Visit our corporate order page to learn more about how Corporate Accounts can make your unique gift-giving experience even more—unique!
This article is part of our
Corporate Gift Giving Guide
to guide you to find the perfect gift for every gift-giving occasion in business. Don't forget to sign up for your
Corporate Gift Account
today and get a discount on corporate gifts for your employees, clients, and customers!
Corporate Gifts
29 Ideas for Unique Corporate Gifts (← You are here)
Executive Gifts
Gifts for Employees
Gifts for Clients