The Ultimate Mothers Day Gift Ideas (Unique Gifts For Mom)
Mothers Day Gift Ideas
The finger paint flowers and macaroni noodle necklace might have been a passable gift when you were six, but you're a grown-up now. It's time you treat your mother to a grown-up gift on Mother's Day.
Mother's Day should be more than just getting her a present you think she'd like—it's about making her feel special. We've got ideas to share about the best Mother's Day gifts out there! (Psst, we've got one for Father's Day too!)
What Would My Girlfriend, Mom, or Wife Like?
You probably think of your mom as, well, a mom. But who is she, really? How does your mom's personality set her apart from the other moms out there?
When it's time to buy a Mother's Day gift, stop asking, "what things do moms like?" The REAL question is, "what does MY mom like?" Trust us.
Go ahead, close your eyes. Picture your mom, your wife, your grandmother, your daughter, sister, aunt, or any other special woman who deserves your special treatment this Mother's Day. Start with her interests—and brainstorm ways you can make them bigger, better, cooler, "funnier," or ways they can each be a more interesting interest!
Does your mother love to garden? Does she talk to her houseplants? Get her some new chic gardening supplies or another photosynthesizing friend..
Does mom love to cook? Bake? Hang out in the kitchen? Find the latest kitchen appliance or cooking gadget. If that's too expensive, a new apron or some kitchen decor are also great ideas.
If you're shopping for an avid sports fan (you know the yelling-at-the-ref type we mean), find something worthy of her passion. Jerseys, stadium cushions, season tickets, (maybe a custom bobblehead?) are just the beginning.
Come on. Get your mother something she really wants. Don't settle for the standard grocery-store gift and card.
How Can You Make Mother's Day Special?
It's important on Mother's Day to let her know that she's special to you. That's why you should spend at least some time thinking about how you're going to make the day a memorable one.
What Should I Avoid?
There's a lot of great things you can get to celebrate Mother's Day, but there's also a lot of pitfalls you should avoid. Hint: buying cleaning supplies so she can do even more chores around the house isn't going to make her day.

Mother's Day Gifts for Your Wife
She's the mother of your kids. And the love of your life. Here's your list of top-shelf gift ideas worth giving on Mother's Day.
A Couple's Massage - Treat her to some relaxation and time for meditation by arranging a couple's massage for both of you. Pair this with a nice dinner and hire a babysitter so you two can enjoy your alone time.
Go to a Concert - Take her to a fun concert. This can give you a great opportunity to spend more time with your mom and treat her to something that she enjoys.
Take a Paint and Sip Class - There are a few art stores and specialty stores that allow you to book a night to come in and learn how to paint, and enjoy your favorite bottle of wine. This gives you a memorable evening together, while also giving you two pieces of art you can hang up in your home to remember the night together.
Karaoke - Rock out to your favorite tunes while you spend a fun night together singing karaoke. If you aren't so musical, come prepared with some songs to surprise her with. Some songs and artists are a bit easier to sing than others. Instead of trying to keep up with the vocals of songs like "I Believe In a Thing Called Love" by The Darkness, stick to "500 Miles" by The Proclaimers, or "Seven Nation Army" by The White Stripes.
Jewelry - It's hard to go wrong with jewelry, but it's also difficult to make sure you're getting a piece she'll love and wear. There's a big difference between your wife saying she loves something and wearing it on major holidays or date nights, and her loving it enough to wear it to work on a regular day. Focus on what she usually wears. Picking a piece that is close to what she already owns or complements what she wears every day shows you're paying attention (finally—proof!).
Personalized Glasses - A small difference between a generic gift and one from the heart can be as simple as personalizing that gift. Glasses etched with your names paired with a wine from the year you were married or even when she was born can bring a meaningful personal touch.
Food - Know what moms like for dinner? A delicious meal that she doesn't have to prepare, cook, or clean up herself. Make it yourself, or even better, have a just-like-home meal delivered! Spoonful of Comfort's Thinking of You Gift Basket includes the kind of soup, rolls, and cookies she'd make—without any of the work.
Mother's Day Gift from a Daughter
Growing up, she was always there for you, and she taught you things no one else in the world could. Thanks to your mom, you are the woman you are today, and Mother's Day is the perfect time to appreciate her for that. Here are some unique Mother's Day gift ideas you can get her this year:
Chocolate-Covered Strawberries - Give your mom a sweet treat with a dozen chocolate-covered strawberries. You can choose to send her some if you live in a different state, or even dip them yourself if you live nearby.
Mother/Daughter Jewelry - You can celebrate the bond between you and your mom with jewelry for the both of you. While matching jewelry is always an option, other pieces like this mother & daughter necklace set help both of you remember the relationship you have together and what you mean to each other.
Essential Oils - Aromatherapy can be a great way to relax and make any home a little bit more zen. By getting your mom a diffuser and a variety of oils for her to mix and match as she needs, you'll be bringing the spa right to her home.
ShoeDazzle Subscription - Shoes? What woman can ever have enough? With this monthly subscription, mom will get a stylist-selected shoe sent to her door. If you ever snuck into her closet to steal her shoes, here's your chance to give her shoes worth stealing.
Jewelry Box - Has jewelry been your go-to gift for mother's day? Mix things up this year with a place to keep it organized. A small, simple jewelry box can be a classy addition that helps her stay organized and clutter-free.
Friendship Lamps - Sometimes a text or a phone call just doesn't cut it. Friendship lamps help you stay connected to your mom no matter where in the world you are. With one touch, you can send your mom a loving reminder that you're thinking of her, and she can do the same.
DIY Lip Balm - Who couldn't use another lip balm? Whether she's an avid lip balm user or not, she'll love something made with love that she can have with her daily. The best part about making lip balm for her is that it's easy to make in bulk so she never has to go with store-bought ever again.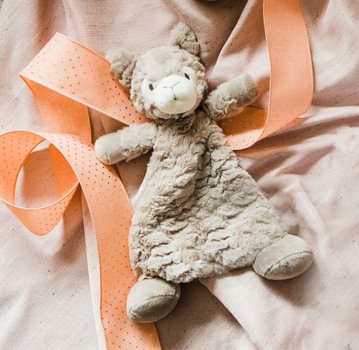 Mother's Day Gift for a New Mom
Have a new baby in your family? Congrats! You know being a new mom is no easy job. A full band and a parade for her might not be feasible, but here are a few starting ideas to make every first-time mom smile on her first Mother's Day.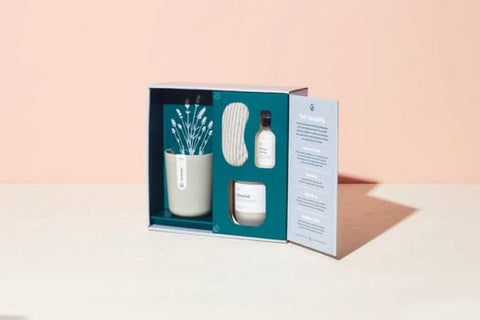 Whether you call her Oma, Nonna, Abuela, Savta, or Gam Gam, give your grandmother the shout out she deserves this Mother's Day! Here are a few Mother's Day gift ideas for your grandma.
Family Tree - It requires a bit of work to put together, but a family tree can show your grandma just how far her family reaches. If you have the time, you can even include her parents and family.
Connection Candles - If your grandma is the type who likes to share stories about when she was a kid and remembering the good times that she had, these are the perfect candles for her. Each one is crafted to remind her of the neighborhood she called home.
Mother's Day Activities
On Mother's Day, time is one of the best gifts you can give your mom or wife or grandma. So here are a few activities you can do on Mother's Day to spend the entire day celebrating her.
Go Swimming - Take advantage of the warm early-summer weather and spend a relaxing day next to the pool. Let her kick back and enjoy a day in the sun with a good book, while you take care of everything else.
Watch a Baseball Game - If mom loves to root for the home team, take her out to see a game.
Get a Mani and Pedi - Don't send her out to do it alone, sit next to her and spend the afternoon seeing how she pampers herself as part of your Mother's Day event.
Mother's Day Message
Chances are, you're going to also get your mom, wife, grandma, aunt, sister, friend, or whoever else, a Mother's Day card, but what do you write in them? There's usually a very nice and poetic message already printed in them, but how can you add to that without sounding cheesy?
Something simple and direct is the best way to go. Write Something from the heart like "I'm so proud to be your kid" or "I'll always have a special place in my heart for you." You just might conjure up some mom tears.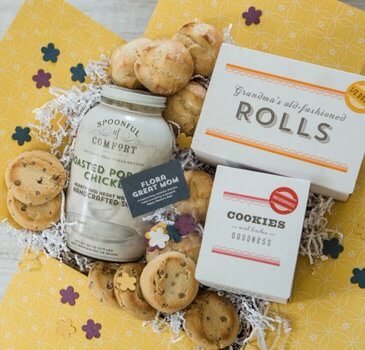 Give Mom Something Special
This year, get a unique Mother's Day gift that will warm the heart and the stomach. Spoonful of Comfort provides heartfelt gift packages that remind you of home, and what's more Mother's Day than that? This year's Mother's Day package is fully loaded with the kind of soup, soft bacci rolls, and yummy cookies mom would make herself—plus limited-edition plantable flower confetti.
Choose from six different kinds of sensational soup, from classic chicken noodle to hearty corn and potato chowder. Select her favorite cookie for a sweet dessert, and top it all off with a personalized note to express your love.
See more Spoonful of Comfort Mother's Day Content
[Mother's Day Gift Guide]
Ultimate Mother's Day Gift Guide

(➜ Currently Reading)
[Mother's Day for a Grandma]
[Mother's Day General]

➜ Order the special Mother's Day gift package from Spoonful of Comfort!