What To Send Instead of Flowers for Sympathy [25 Unique Funeral Gift Ideas]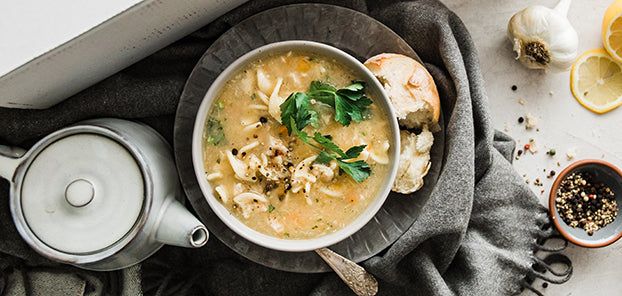 "I wish there was something more that I could do."
What can you give in times of loss? It's natural to want to comfort someone who is grieving the loss of a loved one. But how can you offer sympathy in a personal, individual way?
We've explored 29 creative ways to send sympathy and support when there's a funeral. These suggestions for funeral gifts (that don't happen to include sending flower arrangements) offer help and condolences for the bereaved in five categories:
You're currently reading ➔ [25 Unique Funeral Gift Ideas (Instead of Flowers)]
See below for other posts in our sympathy gift guide:
29 Unique Funeral Gift Ideas
1. Gifts of Comfort
2. Gifts of Extra Help
A donation to the funeral costs
Your time: run errands, house sit, walk dogs, grocery shop, etc.
Tasks you can do during and after the funeral
A gift certificate to a house-cleaning service
3. Gifts that Redirect Grief
Adult coloring books and markers
A gardening kit with seeds to start a vegetable or flower garden
A beautiful journal and pen
A few potted sympathy plants
4. Gifts that Give Tribute
A commissioned painting of the deceased
A memory book with pictures and quotes
A tree sapling in honor of the deceased
Urn tributes—perhaps filled with fresh flowers or a peace lily plant.
5. Gifts For Kids
Coloring books and crayons
Board games or card games
Bonus: Other Gifts
Gift card for comfort food, a favorite restaurant, etc.
Gift card for daily needs: groceries, subscriptions, and more.
Are Group Sympathy Gift Baskets Appropriate?
Group sympathy gift baskets are absolutely appropriate when you know the departed soul or the grieving individual as part of a larger social group. Co-workers, church congregations, community groups, and former classmates might consider extending mutual sympathy through a collective donation or gift.
A group effort can provide the means to contribute a larger donation or more significant gift. However, uniting people's expressions of care and honor is an even more meaningful reason for group gifting. Together, people can amplify their support in an impactful way for someone experiencing loss. Groups gifts from people who knew the deceased well may also be more appropriate when the recipient is less familiar with the givers.
Even if you participate in a group gift, a close relationship with the deceased or grieving family calls for a personal note or sympathy gift you send yourself.
Can I Send A Gift After A Funeral?
Gifts may actually be more appreciated after funeral events are over. Organizing memorial services can be time-consuming and stressful, especially when grieving a recent loss. Gifts of extra help during this time (see above) may be especially appreciated at this time. But gifts sent after a funeral show continued support. A person's sense of loss remains long after the funeral, and a thoughtful gift can bring much-needed support, care, and even relief during times of loneliness and great emotion. To some, a gift that celebrates a birthday or anniversary of the departed soul or a surprise, thinking-of-you gift shows enduring support and love from you.
Is It Appropriate To Send Something Besides Flowers?
While flower arrangements are often considered the go-to gift for funerals, consider other practical and perhaps even more meaningful funeral gift alternatives. An abundance of flowers are lovely at a funeral service, but wreaths and arrangements may be discarded or distributed to others soon after. Other thoughtful and appropriate funeral gifts also convey compassion—and may meet specific needs. Consider gifts of extra help and comfort described above.
What Is An Appropriate Sympathy Gift?
When deciding on a sympathy gift, consider your relationship with grieving loved ones. Think about how they'll respond to your gift idea, what may be most helpful in their circumstances, and how well that gift shows genuine empathy.
Often, the greatest sympathy gift is taking time to listen and a willingness to help. Be available, offer a helping hand, and provide aid without being asked.
Send Spoonful of Comfort
Spoonful of Comfort was developed especially to show care-including gifts of sympathy. Our soup care package provides a warm and heartening meal that's easy to prepare during stressful and emotional times. Choose from a selection of comforting soups that will be beautifully packaged and delivered for loved ones to enjoy at their convenience. Spoonful of Comfort is recognized for thoughtful service, delivering your personalized message in a tasteful, compassionate way.