31 Appropriate Sympathy Gift Ideas
What is an Appropriate Sympathy Gift?
When a loved one experiences a tragedy or loss, we often wish we could do something to ease their pain. Unfortunately, choosing appropriate sympathy gifts to help them through the grieving process can be challenging, especially because each person deals with grief and sadness in their own way. The most important thing to remember is that anything you do to show love and sympathy will be appreciated.
You're currently reading ➔ [31 Appropriate Sympathy Gift Ideas]




See below for other posts in our sympathy gift guide:
Sympathy Gift Etiquette
Your main goal when choosing appropriate sympathy gifts is to show love and support. However, your message may be better received when you follow the rules of sympathy gift etiquette:
Whether or not there is an official service to attend, it is still encouraged to send a gift or card to express your sympathy.
The best time to send gifts is during the first two weeks, but if more time has passed, a simple note or card is still acceptable.
Charitable donations are often appreciated, particularly if the family has ties or sentimental feelings toward a specific charity. As a general rule, look for the phrase "in lieu of flowers" on any announcements or in the obituaries and follow the instructions given. Sympathy etiquette suggests that you still write a note or card expressing condolences and letting them know you made a donation.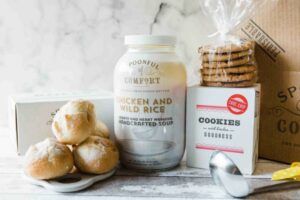 Use the guide below to find ideas for appropriate sympathy messages and gifts that follow the rules of sympathy etiquette.
1. Classic Sympathy Gift
When you aren't sure what to get someone in need of comfort, these classic ideas are always well received.
Gift basket
Teddy bears/stuffed animal
Balloons
Letters/card
Throw blanket/heated blanket
Acts of Service
Flowers
2. Personalized Sympathy Gift
Another great way to express genuine sympathy is by choosing or creating a gift with a personal touch.
Personalized throw blanket
Sympathy ornament
DIY compassion care package
Photo album with family/friend pictures
Book or jar with memories of the deceased, written by friends and family
Charitable donation
Gift card for home cleaning or other services
3. Decadent Sympathy Gift
If you have a little more time or money to invest in a sympathy gift, try one of these commemorative and sentimental ideas.
Memorial jewelry (necklaces, bracelets, rings, etc.)
Memorial tumbler mug
Memorial flower planter box
Angel wind chime
Memorial garden stone
Plant a tree in their name
Keepsake box
4. Sympathy Food Gifts
In situations of extreme sadness or stress, it is often the simple things that bring the most comfort. Bringing over a meal or special treat is the perfect way to cheer someone up and show you care.
Candy
Tea or Hot Chocolate (something warm to drink)
Cookies (Spoonful of Comfort has several great cookie options you can have sent right to their home!)
Ice cream
Fruit or Fruit basket (fresh or dried)
Assorted nuts
Tin of popcorn
Bottle of wine
Favorite soda
Frequently Asked Sympathy Gift Questions:
How do you sympathize with someone who has lost a loved one?
In addition to cards and gifts, the best way to show your sympathy is by providing service. What can you do to take away some stress during this time? Maybe you can provide a meal, mow the lawn, shovel snow, help with cleaning, or take care of kids.
Is it appropriate to give money in a sympathy card?
Yes, in fact, it is often one of the best ways you can support a loved one. The deceased may have been the one bringing in the majority of the household income, or the survivor may be faced with high funeral costs. Put the money in a card with a kind message and simply mention there is a gift inside so the recipient doesn't wait too long to open it.
Is it appropriate to send flowers to a funeral?
There are circumstances where flowers would not be an appropriate gift. In some cultures and religions, sending flowers to show sympathy during mourning may not be part of their tradition. For example, traditionally Jewish people do not have a culture of sending flowers to the funeral. The same applies to Hindus. If you know the family has no such concerns, then flowers are a great gift for a funeral.
Are group sympathy gifts appropriate?
Sending sympathy gifts as a group works well when the person or family you are supporting is affiliated with your group and is not a particular close friend. For example, multiple coworkers can pitch in for a group gift and each sign the same card.
One of the most helpful ways to provide comfort during difficult times is by making sure your loved ones are well fed. During the grieving process, it is not uncommon for people to let their nutrition slide or to skip meals altogether. Send your loved ones a delicious meal from Spoonful of Comfort, which includes delivery of soup, cookies, and rolls, as well as a personalized note card and a ladle for serving. Check out our Sympathy Soup Gift Baskets today, and get more inspiration for appropriate sympathy gifts on the Spoonful of Comfort blog.